WW1 'Soldiers' Pennies' For Margaret And Edwin Hassé To Have Final Resting Place At Erewash Museum
In 2014, much of the work undertaken by the Borrowash Heritage Lottery-funded 'Unexamined Lives' project centred upon the War Memorial in the village. Our researchers Keith Oseman and Peter Ball uncovered the histories behind the names on the Memorial and Keith created a 'Virtual' First World War Memorial for our site. One person who stood out because she was the only woman to be commemorated on the village Memorial was Margaret Helen Hassé. In the 1911 Census, Margaret (born in 1887) is recorded as living in the Fulneck Moravian settlement near Leeds and working as a music teacher. Margaret's brother, Edwin who was killed in action on July 12th 1916 is also listed on the Memorial.
Margaret's war was spent nursing in the Voluntary Aid Detachment at Netley, Southampton after training at Ockbrook. She may have nursed the poet Wilfred Owen during his time there. She survived the war, only to succumb to the Spanish 'flu on 16th October 1918. Margaret Hassé was 31 years old at the time of her death and her name also appears on the Women's National War Memorial at York Minster.
In April 2016, Peter Ball was contacted by Lorne Hammond, Curator of Human History at the Royal Alberta Museum in Victoria, Canada. The Museum had come into possession of the Memorial Plaque, commonly known as the "Soldier's Penny" or "Death Penny", for Margaret and that of her brother, Edwin Ridgeway Hassé. As Lorne explains, this was an unexpected but very lucky find for the 'Unexamined Lives' project:
'We have come into possession of the Soldier's 'penny' for Margaret and that of her brother, Edwin Ridgeway Hasse.
We were considering transfer of the brother's penny to the Royal Alberta Museum as he served in a unit from Edmonton until his death. Thanks to a skilled staffer, Paul Ferguson, we found your website. My question is this. What is the nearest appropriate local museum to Borrowash and would they be interested in Margaret's award which I suspect came from the surviving brother, Frank, perhaps, but that is just a guess. Please have that institution contact me directly by email. This is a bit of a dilemma as we don't want to split the pair up either. Lastly, it appears Margaret is not registered with the Commonwealth War Graves Commission and I would like to remedy that.'
We felt that Erewash Museum, scheduled to host the 'Unexamined Lives' exhibition later this year would be a fitting home for the pennies and Helen Martinez, Museum Service Manager at Erewash agreed. It is hoped that they will be there by the time of our exhibition in October/November.
Soldiers' Pennies are actually plaques or medallions issued after the First World War to the next of kin of all British and Empire service personnel who lost their lives as a direct consequence of it. Made of bronze, they resembled pennies in the coinage of that time, although approximately five inches in diameter, and were designed by the sculptor Edward Carter Preston who has depicted an image of Britannia standing on a lion and holding a trident in her hand. In her left hand, she holds an oak wreath above a tablet bearing the name of the person commemorated. 1,355,000 plagues were issued in total and continued to be issued into the 1930s. Six hundred plaques were issued to commemorate women, making Margaret one of a very rare and select number. The inscription reads: 'She died for freedom and honour.'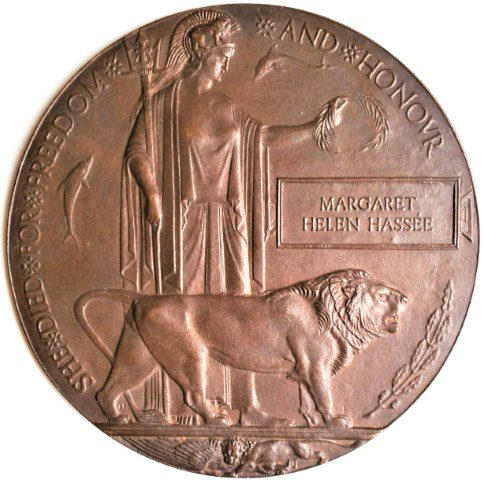 Margaret Helen Hasse's Memorial Plaque
Helen Clark, Director of 'Unexamined Lives' said:
'This is a very exciting discovery. Margaret Hasse's story is fascinating in that it brings in elements of the Home Front, Women at War, VAD nursing and the Influenza epidemic. Margaret is buried in Ockbrook churchyard and we will be seeking to have her name entered on the CWGC database. If anybody has a photograph of Margaret, please let us know. She was a heroine and fully deserves recognition for her bravery and dedication.'